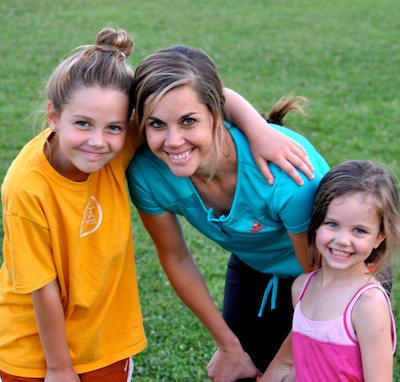 Jacy
Jacy grew up in San Jose, CA and began playing soccer at age 8. She went to Presentation High School, started varsity all 4 years and helped the team to a record of 78-4-5. Her high school team traveled to Japan and competed internationally. Presentation's high school coach was Mani Hernandez, a former Hermann trophy winner, professional player and Olympian.
As a member of the Central Valley Mercury club team, she helped the squad win 3 consecutive youth National Championships. Over those 3 seasons their record was 82-0-2. They were coached and trained by collegiate coach, Phillipe Blin, and former iconic Olympian and collegiate coach, Brandi Chastain. Several high school and club teammates also went on to become Gatorade Players of the Year, Parade All Americans, WUSA #1 draft pics, Collegiate National Champions and Olympians. Jacy was inducted into the San Jose Sports Hall of Fame in 1998.
She continued her playing career in the collegiate ranks for division one Seton Hall University and helped the team to its only top 20 national ranking ever her freshman year. She was a Big East Academic All Star and graduated with honors with a degree in Business Sports Management. In college, Jacy held intern positions at Stanford University Athletic Department, Special Needs New York, NBC Sports, and Seton Hall University Athletics. After graduating, her sports knowledge, experience and passion landed her a position in sports television production at ESPN in Bristol, CT and later, New York City.
Several years later she relocated to Houston and began to manage the youth soccer league at St. Vincent De Paul. After 7 years, she continues to coach hundreds of the kids and manage the Tiger Soccer program. Since 2012, she has trained and coached two elite level club teams in the Houston area and maintained a busy schedule of private, semi private and large clinic training for boys and girls ages 3 through high school.
Despite her impressive soccer and sport resume, she claims her biggest achievement, on or off the field, is being a mom to her 5 kids, one of which has special needs.
Jacy's past of competing, coaching, training, working and experiencing all facets from parenthood, to the sports industry, to the soccer pitch leave her confident and passionate about establishing and training for The Houston Center for Soccer.